Due to the many heat treating methods we use, Texas Stress is able to offer a wide variety of services. We stand out from the competition by utilizing a diverse range of equipment tailored to perform the exact operation required for your specific project.
Mobile Rigs
Texas Stress, Inc. utilizes a field proven 80-volt output, electrical resistance system with ceramic mat type heaters, control center, and interconnecting cables. All recording instruments, primary thermocouples, and secondary extension wire are of the type "K" system. All units are equipped with state-of-the-art system controls to ensure accurate temperatures and on-time performance.
Our current Mobile Rig fleet includes the following capacities (power optional):
12 Circuit Units
18 Circuit Units
24 Circuit Units

Portable Consoles
Consoles are ideal for small projects as they can be strategically located throughout a congested unit during a turnaround when use of a large mobile unit would be impractical.  The features and benefits include:
12 Circuit consoles and 6 Circuit consoles available
Powered by 3-phase, 480-volts
AC power is used to ensure that a malfunctioning heater does not damage the part
All have a maximum 80-volt output, which makes this a low voltage, safe operation
All are equipped with automatic controllers for precise temperature operation
Multiple zones of control, the unit(s) selected are based on your needs
Heaters are a flexible ball and socket design for fitting many different applications
Customer has the option to provide power for cost savings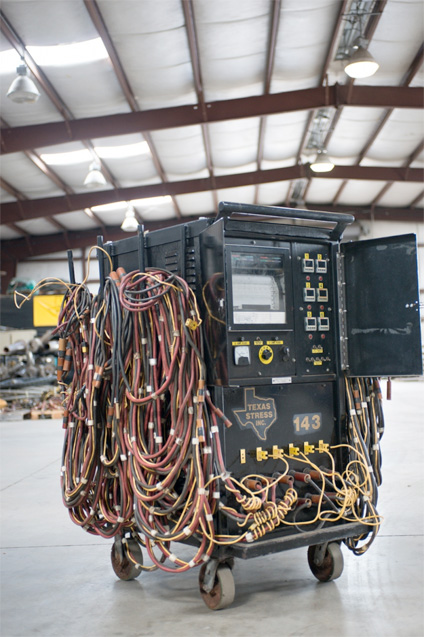 Direct Fire Equipment
Luminous Flame Oil Burners
Great in multiple applications from thermal drying to the PWHT of small to medium sized pressure vessels
Light, economical, and powerful
Powered by 110 volt AC and burn grade 2 diesel fuel
Efficient and clean burning leaving no residue
Perfect for use in fabrication shops and the petrochemical industry
High Velocity Gas Burner
Refractory curing made easy
Powerful enough to generate a great deal of air velocity for achieving the right air/heat convection
Burn natural gas (supplied by customer) or propane – either fuel burns extremely clean and oil free
Can be installed to produce a first rate heat treatment for vessels of all sizes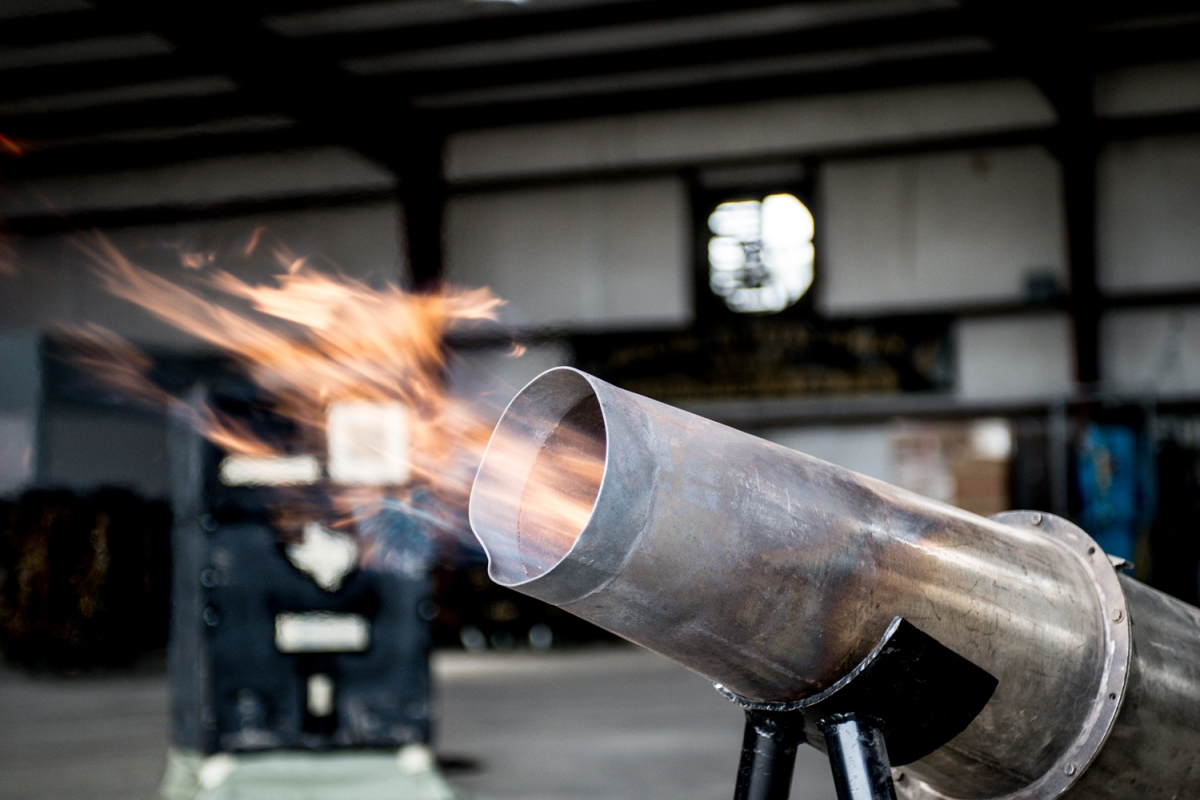 Atmospheric Furnaces
Texas Stress, Inc. utilizes its atmospheric furnaces for the post weld heat treatment of vessels, exchangers, condensers, vast numbers of fabricated spool pieces and other items that will fit within the confines of the furnace's internal dimensions, all at a fraction of the cost of localized electric heat. They are completely computerized for on time heat cycles and accurate temperature control.  Our furnaces are available 24 hours a day, 7 days a week, in the following sizes:
| | | | |
| --- | --- | --- | --- |
|   | W | H | L |
| 1 | 32" | 30" | 63" |
| 2 | 72" | 48" | 72" |
| 3 | 72" | 96" | 132" |
| 4 | 7' | 7' | 20' |
| 5 | 7' | 8' | 13' |
| 6 | 10' | 10' | 44' |
| 7 | 12' | 10' | 44' |
| 8 | 17' | 17' | 59' |
| 9 | 4' | 4' | 4' |
| 10 | 8' | 8' | 10' |
| 11 | 16' | 16' | 49' |
In addition, Texas Stress can design and fabricate specialty furnaces for almost any application. In many cases, this is a cost effective and time saving option.  Contact us now to find out more.
Generators
Texas Stress has a large number of portable generators ranging from 95kw to 300kw.  These generators can be staged in small spaces and allow power distribution to elevated areas or spaces that a large mobile rig cannot access, allowing us to customize set up to customer's specific needs.  Our generators, like all our equipment, are available any time day or night to meet all our customers' needs.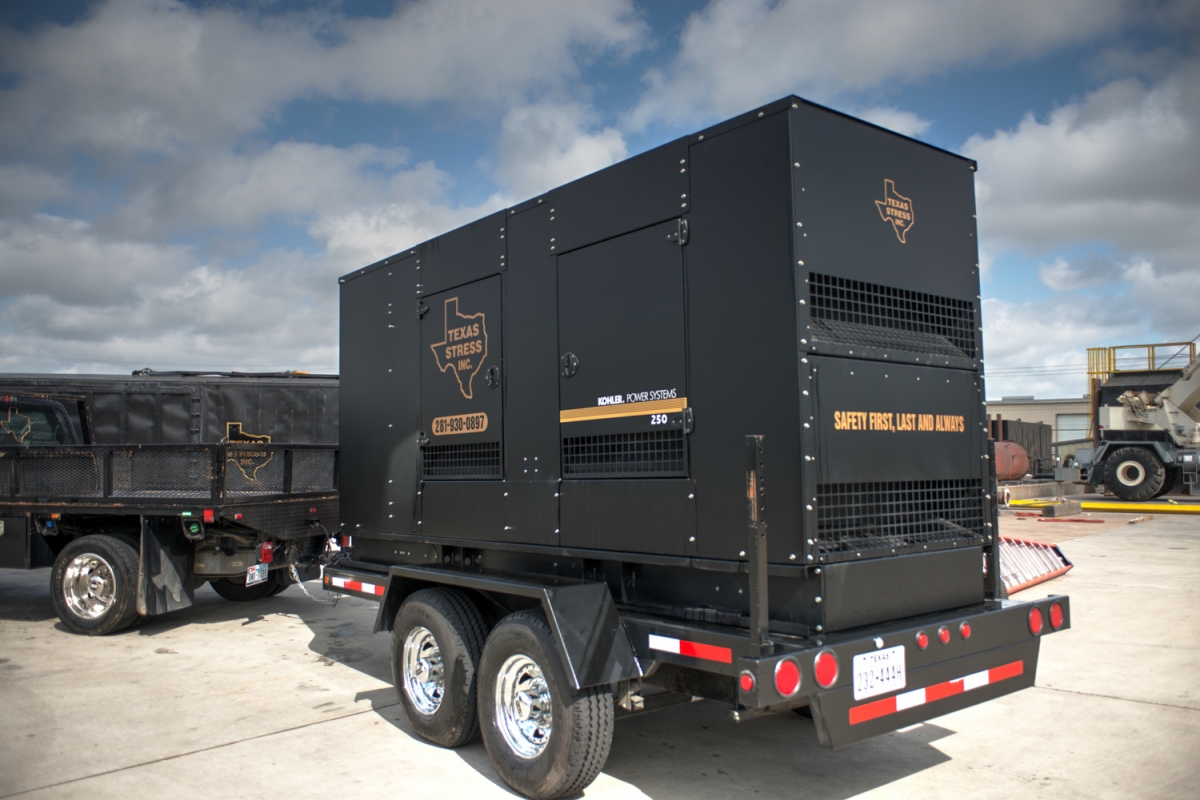 Hardness Tests
Hardness of metals can be measured in many different units. Some examples are BHN, DPH, Shore, Rockwell, etc. The testing unit used by Texas Stress, Inc. is the portable Brinell Testing Kit. As the name implies it is portable, easy to use and very accurate. Testing can be accomplished in hard to reach areas such as, elevated welds in overhead pipe racks, inside of process equipment, on modular skids and even in areas with limited or no light. The BHN test is a very quick and inexpensive method to verify metal harnesses or the effectiveness of the heat treatment.